CB Radios Are Trusted by Those Who Need Immediate Communication Options
Our team has tested, researched and reviewed the best CB radios on the market and here are our top choices.
CB Radios
CB radios are still one of the best ways to communicate when on the road or in emergency situations. They have amazing range and are super easy to use. You can easily stay in touch with your group during a road trip without having to constantly pull out your phone. CB radios and two-way radios are handy to have in situations when cell service may be down or when going into the woods. You never know when you will need a good CB radio in your vehicle, so it's a good idea to install one before you need it.  
CB radios are used by 3/4ths of all professional drivers in the world. There's a reason why so many drivers install CB radios in their vehicles; you never know when you will need to communicate with other drivers and your cell phone may not always work.
Best Handheld CB Radios
There are a ton of handheld CB radios on the market and the best one depends on what you're looking for. It's important to read the product description for each handheld CB radio to make sure you get what you need. Handheld CB radios are a great addition to any vehicle, bug-out bag or campsite because you can always communicate even when cell towers are down. 
We've compiled a list of great CB radios and divided them up into categories to help you make a purchasing decision based on your needs. Not everyone needs a CB radio with all the bells and whistles and may prefer a small handheld CB, so we included something for everyone in our best CB radio list.  
Here are 3 Reasons Why You Need a CB Radio:
You will always be able to communicate
You can learn of bad weather before other people
You can still talk in areas with no phone coverage
We have compiled a list of the best CB radios. Each entry is a high-performance CB radio that will serve you well for years to come.
Best Overall CB Radio
 Cobra 29 LX 40-Channel CB Radio
Cobra 29 LX 40-Channel CB Radio
The Cobra 29 LX Professional CB Radio is our best overall pick for CB radios. The Cobra 29 Models give you a lot of bang for the buck and have been a staple in CB radios for years. It has a ton of useful features and gives you access to all 40 channels. The Bluetooth connectivity gives you more communication options so you can focus on driving. Calls to your cell phone can be synced with your CB radio and provides a more effective way to have conversations while on the road. It also has a noise cancellation microphone so you can hear your calls better and with more clarity. You also have the feature to route your incoming audio through your vehicle's radio speaker system so you can hear who is calling loud and clear. You can simply use the one-touch protocol to have the ability to answer calls, making calls and hanging up all with the touch of a button.  
If that wasn't enough, this CB radio also gives you hands free use such Caller ID with Voice and Text-to-Speech options that can re-route your cellphone calls through the radio speaker so you can focus on the road. The NOAA weather channels give you a heads-up about dangerous weather and will auto scan to find the strongest channel.  
Using a CB radio should be easy and make your road trip even better. The Cobra 29 LX CB radio does exactly that and more. We chose this model as our favorite CB radio due to the available features such as Bluetooth connectivity, NOAA weather access, caller ID, price, range, channel availability and text to speech options. You get a lot of quality for your money with this CB radio.  
Cobra 29 models are some of the most dependable CB radios on the market and have plenty of features that will make your job easier and your road trips better. There are multiple Cobra 29 CB radio models to choose from depending on the features you are looking for.
You've probably heard CB users say that the Cobra 29 models are some of the best CB radios ever made. We can't disagree! They are absolutely at the top of our list of the best CB radios.   
Here's a List of Our Favorite Cobra 29 Models: 
Cobra 29 LTD

 

Cobra 29 BT

 

Cobra 29 Chrome

 

Cobra WX NW ST

 
Tag: CB Radio Cobra
Texas Ranger Elite TRE-936FFB 40-Channel CB Radio
The Texas Ranger Elite CB Radio has old school controls and is one of the best CB radios on the market. It has stellar reviews from truck drivers who have used multiple brands over the years and still go back to the Texas Ranger. You get all 40 CB channels with a nice black chrome finish and blue LED display that looks great in any vehicle. It comes equipped with a built-in SWR bridge circuit and an S/RF/SWR meter. You also get an SRA-198NC noise cancelling microphone to enhance your experience. The noise blanker and auto noise limiter allows you to hear your conversations better.  
We like this CB radio due to the available functions and the style of buttons and the LCD display. It looks amazing and is fun to use. If you've never used a Texas Ranger Elite CB radio, we highly suggest trying it as it's quite an experience.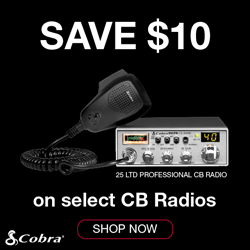 Uniden Bearcat 980 40-Channel SSB CB Radio
The Bearcat 980 CB Radio by Uniden has been field tested extensively and has amassed thousands of positive ratings. This is one of the most powerful CB radios on the market and is perfect for long-distance drivers such as truck drivers and those who travel for work. This is the type of CB radio that anyone can use and it has loads of essential features that makes your CB radio experience better. The Bearcat has a large display that's easy to read with a quick glance and you have 7 color options to personalize your display. This CB radio comes fully equipped with 40-channels with full spectrum CB operation NOAA weather channels that you can access with the push of a button.  
We like the wireless microphone compatibility the Bearcat 980 comes equipped with. You can use the Uniden BC906W CB wireless microphone to give your CB radio more options. The Uniden Bearcat has plenty of useful features such as:  
Noise canceling mic

 

NOAA weather alerts

 

40 channels

 

Integrated SWR meter

 
Large digital meter

 

RF gain control

 

ANL/noise blanker, etc.

 
Overall, we highly recommend this CB radio for anyone who wants a great way to communicate without relying on cellphone coverage. The Uniden Bearcat 980 is a great choice if you're looking for the best CB radio for long range. It gets the job done. 
Tag: CB Radio Uniden
Best CB Radio for the Money
Midland 1001 LWX 40-Channel CB Radio
Midland makes great middle-of-the-road electronics. They're affordable, dependable and loaded with enough features to satisfy most CB radio users. The 1001LWX 40-Channel CB radio by Midland has 40 channels including NOAA weather channels. NOAA uses weather spotters to give you incredibly up-to-date weather information that you can't get online or from a weather report.  
Midland CB radios are a great choice for someone who wants a great radio, but doesn't want to spend a lot of money on it. You can get a nice setup for roughly half the price of other radios on this list. However, there may be a few features that you don't get with this radio such as Bluetooth connectivity, talk-to-text and the option to re-route your cellphone calls through your speaker. If that's important and you mainly want a dependable CB radio for your vehicle, then this is a great choice for you.  
Tag: CB Radio Midland
Galaxy-DX-959 40-Channel CB Radio 
If you haven't seen a Galaxy CB Radio, you're in for a treat. This is the CB radio that has everything you could want and more. Galaxy CB radios are specifically designed in a way that's perfect for not only veteran CB operators, but new users as well. It's large and has easy-to-read power output, SWR, incoming signal and modulation. You can view your stats with a quick glance and see everything you need. The layout is organized and the outlay of the scales are easy on the eyes.  
Each button handles a separate task so you don't have to cycle through menus or take your eyes off the road for even a second. The Galaxy has large yellow digits to signify the five-digit frequency and even larger yellow digits to signify the two-digit channel so your eyes can pick them up in a flash without searching. It comes equipped with a variable power output control and a variable talkback circuit that has an on/off switch.  
The Galaxy-DX-959 is one of the best CB radios you will find and has plenty of features for professional CB users as well as occasional users who may not have as much experience. We like the Proprietary Galaxy Noise Filter Circuit that assists in the recovery of weak SSB signals by reducing noise. The Galaxy DX-959 is one of the best CB radios for truckers.   
Tag: CB Radio Galaxy
Best Heavy-Duty Use Radio
Uniden PRO 510 XL 40-Channel Pro Series CB Radio
The Uniden Pro 510 XL is a heavy-duty CB radio that's rugged and you don't have to worry about damaging it through regular use. It can take abuse and is great for off-road adventures. This is a great compact radio that can handle commercial and industrial use with 40-channels. It has a built-in noise limiter with squelch control to block out noise and the microphone has a long-coiled cord for easy use. Flip on the automatic noise limiter while speaking to eliminate background noise so you can hear your conversations better and you have the option to connect to an external speaker by using the built-in external speaker jack.  
The Uniden Pro 510XL CB Radio comes with everything you need to get started such as the radio, mounting hardware, mounting bracket, microphone and user's manual. This is a great CB radio for anyone who doesn't want to worry too much about features, but needs a tough little radio that can power through.  
Best Small Handheld Portable CB Radio
Midland 75-822 40-Channel CB Radio
The Midland portable CB radio can be plugged into the cigarette lighter adapter of your vehicle or can be powered by (6) AA batteries. It has access to 40 channels; 10 NOAA weather channels and has 4 Watts of output power. This is a great little handheld radio that has an automatic noise limiter (ANL) and squelch control to give you a clear sound when communicating. Not only do you get all 40 CB channels and 10 NOAA weather channels, but you also get dual watch channels to allow you to monitor an emergency channel plus another channel that you may be using for travel purposes.  
This portable CB radio also allows you to channel scan and automatically search all channels for any activity while stopping on any active channel for five seconds before moving on. This makes it easier to monitor multiple channels while driving so you don't have to fumble with your radio.  
We like the fact that this portable CB radio has an external headset jack for hands-free use and the antenna is easily removed so you can transport your radio. The LCD display is easy to read at all times and you can see what channel you're operating on at all times.  
Tag: CB Radio Portable
Uniden PRO505XL Pro Series
The Uniden Pro505XL is a great CB radio that's compact, dependable and easy to use. It has all 40 CB channels as well as Public Address functions. The LCD display is large and easy to read. It doesn't look cluttered like many CB radio displays. The Uniden Pro505XL CB radio is small and compact and will fit in any vehicle. Space can be limited in small vehicles, but this CB radio doesn't take up much space. It has a built-in Signal/RF power indicator to make your job easier and the public address function allows you to hook up to an external PA speaker so you can be heard outside of your vehicle. This is a handy function that allows you to transmit over speakers for gatherings or parties.  
This Uniden CB radio is a cheap alternative to other models and is perfect for anyone that needs a reliable way to communicate when cellphones may not be dependable. We like the Public Address function on this CB radio because you never know when you may want to plug int an external speaker to broadcast.  
The Uniden Pro505XL CB Radio includes: 
Uniden CB Radio

 

Mounting Hardware

 

Mounting Bracket

 

4 Pin Electric Microphone

 

User's Manual

 

Two-Year Warranty

 
Overall, this model of Uniden CB radios is a strong choice for someone who wants a simple radio that will get them through the day.  
CB Radio Buyer's Guide + FAQ
How to Choose the Best CB Radio for You
Choosing the best CB radio for your needs may seem like a daunting task. There are a wide range of brands and options to choose from, so you have to consider what you want. Most CB radios fall within the $50 to $200 price range, with the high-end models giving you the most features. You may not need every single feature the more expensive models have, so it's a good idea to research and determine exactly which features you want.  
Most CB radios have similar features that will get you through the day, but you can purchase radios that give you a few more helpful options. CB radios will normally transmit 4 watts of power, no matter how much money you spend on them. You will get the exact same range on either model, so you have to find the best radio for picking up a clear signal that you can hear clearly on. You can get CB radios that can minimize background noise so you can hear your conversations better, this is called an automatic noise limiter. You can also get a radio that gives you immediate access to the emergency channel and the most commonly used channel so you don't have to search for them. 
What is a CB?
CB stands for citizens band radio and is a land mobile radio system that allows you to speak to one person or multiple people at the same time. It's a great way to broadcast messages as well as receive messages about road conditions, weather or other road hazards. Many people rely on cell phones, but you can't always catch reception where a CB radio can. 
CB Radio for Trucks
CB radios are increasingly popular for trucks and those who drive cross-country regularly. They allow you to communicate better and receive information at all times. Truck drivers routinely travel through areas that don't have great cell service and you never know when you may encounter an emergency and need to get the word out or call for help. CB radios are a great addition to any vehicle and are perfect for keeping you prepared no matter what. 

CB Radio Handheld
If you don't want to attach a CB radio to your vehicle, you can use a handheld CB radio to accomplish the same task. CB radio handheld versions can be used in vehicles or buildings and don't require an external antenna. They operate similar to walkie-talkies and usually are run by batteries or a vehicle lighter cord to plug into your vehicle. Many CB radio handhelds come with a rechargeable battery pack so you can bring them with you. 
Best CB Radio
There are a wide variety of CB radios on the market. The best CB radio may be different for each person, but you will see that there are a few top companies that get all the attention. These CB radios have been field-tested and purchased by thousands of users and a quick reading of CB radio reviews will tell you everything you need to know.
Here's a few common CB radio features:
NOAA Weather Channel – This gives you real-time weather updates and can warn you about incoming dangerous weather. Many CB radios have a scan feature that monitors the channels. 

 

Public Address System – You can connect your CB radio to a speaker and mount it on your vehicle. This allows you to speak to people outside your vehicle with clarity. 

 

Backlit display – if you drive at night, you need a display that you can see. 

 

Bluetooth Connectivity – you have the ability to re-route your phone calls through your CB radio. You can use hands-free to keep your attention on the road.

 

Channel Scanner – This helpful function allows you to search for activity on multiple channels and it will alert you and lock onto an active channel. 

 

Radio Size – You need to measure your vehicle to make sure you have enough space for your radio as they come in various sizes. 

 
How Many Miles Can a CB Radio Transmit?
You're probably wondering about CB radio range. Every CB radios you buy will have a maximum of 4 watts of output. It doesn't matter how much money you spend on your CB radio; it will still have the same power output. The FCC placed this limit to avoid signal interference with other devices and emergency communication services. You can tune your CB radio to maximize reach by tuning the output and performing a few adjustments to make your radio sound as clear as possible. Keep in mind that the range you will get largely depends on your location. Obstructions can reflect signals and shorten your radio's reach. Also, your antenna can improve the range of your CB radio. Be sure to pick the best CB radio antenna you can to ensure you're getting the best coverage.  
With that being said, most CB radios can reach anywhere from 3 miles to 20 miles depending on your location, terrain and obstructions, but you can extend that range.  
Are CB Radios Dead These Days?
While it may seem that cellphones would make CB radios obsolete, that's not the case at all. Cellphones may be convenient, but they don't always have reception and you have to fumble with them to find phone numbers and to dial out. CB radios provide a great way to communicate while on the road and will transmit even when there is no cellphone coverage. CB radios are also great for monitoring real-time traffic conditions and weather situations. You just can't get the same sense of security with a cellphone.  
Many people still use CB radios in 2021 and they are starting to see a new surge in popularity. Plus, CB radios are fun when embarking on a road trip or just to pass the time on a long road trip. There's a growing community of CB radio users and you can always find someone on a channel.  
Do Truckers Still Use CB Radios?
Absolutely! Even though modern technology covers most of what a trucker needs to know while on the road, nearly every trucker still has a CB radio in their trucks. There's a lot you can do with a CB radio that you wouldn't do with your cellphone. 
What are the Most Popular CB Radio Channels?
The most commonly used channels used by truckers as they drive cross-country are channels 17 and 19. Truckers on traveling on north and southbound roads usually use channel 19 and east and westbound travelers use channel 17 to communicate.  
What Does NOAA Stand For?
Most CB radios list NOAA weather channels as a feature, but what is it? NOAA stands for National Oceanic and Atmospheric Administration. It's an American scientific agency that studies ocean conditions as well as major waterways and the atmosphere. This knowledge of the weather is then shared with the public to alert them of possible dangerous weather. 
NOAA Weather Radio is a continuous weather information broadcast across the country. It alerts the public about dangerous weather warnings, tornado and hurricane watches, inclement weather forecasts and other important weather events. It's good to have immediate weather information, especially if you're on the road or in the woods. 
Do All CB Radios Have Access to NOAA Weather Radio?
Most CB Radios are able to receive NOAA Weather Radio to alert you of dangerous weather. Here are a few CB radio radio manufacturers that come equipped with Weather Radio access: 
Midland
Uniden
Cobra
Jerome is an avid outdoorsman who moonlights as an attorney when he's not creating the world's greatest online content.